Bola Tinubu loses another associate, Mueez Akande
2 min read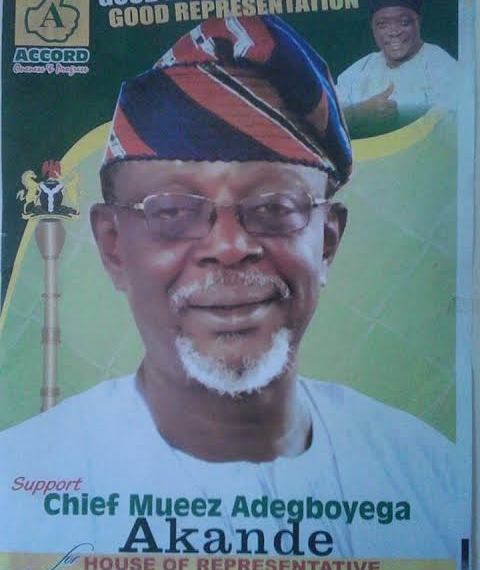 Mueez Akande, another long time associate of Bola Tinubu, the presidential candidate of the All Progressives Congress has died.
Akande was also the brother-in-law to Tinubu's wife, Senator Oluremi Tinubu.
Akande was linked to drug trafficking business in the United States of America along with Bola Tinubu.
The deceased was 72 years. Akande was the husband of Lola Akande, a sister to Oluremi, and current Lagos State Commissioner for Commerce, Industry, and Co-operatives.
The death of the septuagenarian was confirmed by the bereaved wife. His death brings to two, business and political associates of the APC presidential flagbearer who have died in the last 48 hours.
Recall that another friend, confidant, and Lagos lawmaker, Olayiwola Olawale, popularly called Omititi died in Jos, the Plateau State capital during the APC presidential rally.
Meanwhile, the death of Akande came at a time the certified true copy of settlement judgment ordering Tinubu to forfeit $460,000 drug money under the narcotic section of the US criminal code is generating controversy in the country.
The Certified True Copy of the court documents, which included the judgment delivered by Magistrate John Nordberg of a United States District Court, Northern District of Illinois, Eastern Division, was dated August 10, 2022, and signed by Thomas Bruton and Johnny Khuu, both Clerk and Deputy Clerk, respectively, of US District Court, Northern District of Illinois.
The documents revealed how Tinubu and his associates were involved in the distribution of white heroin and money laundering between 1988 and 1992, when investigations closed in on them.
According to the documents Tinubu's involvement in the shady deal was traced to the arrest of one Abiodun Agbele, who was nephew to one Adegboyega Mueez Akande, a major drug trafficker between the US and Nigeria.
The document read in part, "Beginning as early as 1998, Adegboyega Mueez Akande, with others operated an organisation which distributed white heroin, a controlled substance under Title 21 of the United States Code."