ASUU: Protesting members of NLC make caricature of Chris Ngige, describe him as Okija priest
2 min read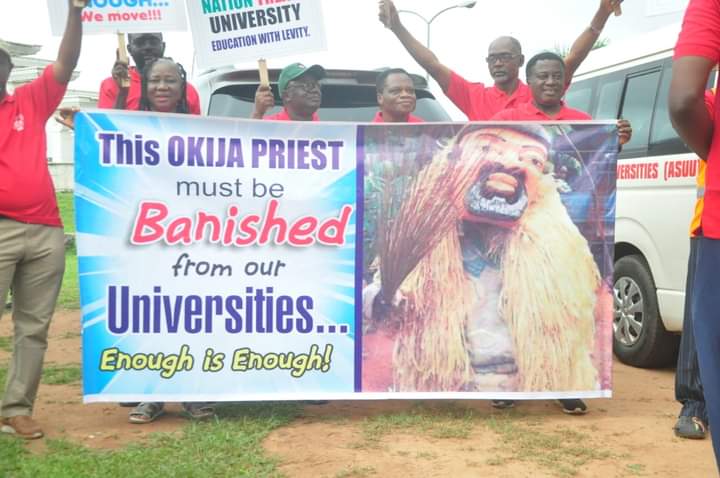 The protest organised by the Nigeria Labour Congress(NLC) in solidarity with the striking Academic Staff Union of Universities(ASUU), has continued for the second day with some of the members of the association making caricature of senator Chris Ngige
Newsband reports that the Academic Staff Union of Universities (ASUU) and other trade unions in the education sector have been on strike for more than five months over failure of the federal government to keep to agreements entered with the unions.
The demands of the striking workers include issues bordering on funding of universities, salaries, and earned allowances of lecturers, among others.
Newsband also reports that the Academic Staff Union of Universities (ASUU) accused Chris Ngige, Minister of Labour and Productivity, of sabotage, vowing not to call off the ongoing strike.
While speaking at a press briefing on last week, ASUU National President, Professor Emmanuel Osodeke, said the union would not succumb to blackmail.
"It has become imperative for us in the Academic Staff Union of Universities (ASUU) to update Nigerians and lovers of education everywhere in the world on the status of our ongoing nationwide strike action which began on 14th February 2022. The need for doing so could be traced to two sources. First, as a union of intellectuals that deals with facts and verifiable claims, there is need to put the records straight on our engagements with the government.
"This need becomes very compelling against the backdrop of the statements recently pushed out from the government quarters. Specifically, there have been insinuations by the Minister of Labour and Employment, Dr. Chris Ngige, that there was no agreement between ASUU and the government; that ASUU sat down to fix its own members' salaries; and that our Union asked representatives of ministries, departments and agencies (MDAs) to recuse themselves from the negotiations.
"Also, it appears that Dr. Ngige has deliberately misrepresented the International Labour Organisation's (ILO) convention on the collective bargaining agreement and the roles of a conciliator to serve his propagandist interest in this matter.
"Following the resumption of the strike action by our Union at the University of Lagos, on the 14th February 2022, we participated at several meetings at the instance of the Ministry of Labour and Employment chaired by Dr. Chris Ngige as "Conciliator". To our utter dismay, nothing concrete came out of the endless deliberations as the Conciliator kept approbating and reprobating. For instance, he would declare that he fully supported our demand that the renegotiation of the 2009 FGN/ASUU be speedily concluded within six weeks while at the same time creating an unrealistic pathway to arriving at a Collective Bargaining Agreement (CBA)"
However, some of the protesting members of the Nigeria Labour Congress this morning displayed a large banner, making caricature of senator Chris Ngige whom the association accused of sabotage.
The inscription in the banner reads, "This Okija priest must be banished from our universities…
Enough is enough!