Angry drivers protest extortion by 'Agbero' in Lagos
2 min read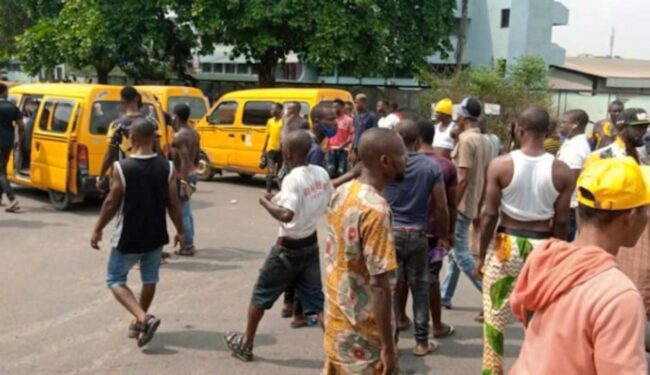 Some commercial bus drivers plying the Lagos-Abeokuta Expressway on Wednesday embarked on a protest over alleged extortion by touts, known as 'Agbero', at the Toll-Gate area of the express.
Some of the commuters, who were left stranded by the drivers, told the News Agency of Nigeria (NAN) in Ota that the protest was unfortunate as they inflicted unnecessary pain and suffering on the masses.
The protest disrupted economic activities around the Toll-gate area of the Lagos-Abeokuta expressway as passengers were seen trekking long distances to their destinations.
Some of the protesters were seen carrying placards with various inscriptions some of which read: "We are tired of Agberos extortion", "We can't continue working for Agberos", among others.
Mr Bimbo Apata, who worked at Lagos University Teaching Hospital, said he had spent over two hours at the bus stop waiting to get a bus, but all proved abortive.
Apata said that he had no choice but to resolve trekking to get to the office on time.
"The suffering was too much. People had to trek several distances because they could not get buses to their various destination," he said.
Apata appealed to the Lagos State government to urgently address the protest before it turned violent and led to loss of innocent lives.
Another passenger, Mrs Yemi Ajegunle, described the commercial bus drivers' protest as "uncalled for".
According to her, it is the masses that will feel the impact and not those in the authority.
Ajegunle, a trader at Oshodi Market, who went to Abeokuta to buy goods that she sells, said on getting to the Toll-gate area, the protesters asked the driver of the bus she boarded to drop all passengers.
"We were all stranded because we can't go back and move forward.
"Many of us, especially those without any heavy luggage started trekking to our destinations," she said.
Ajegunle called on the authorities concerned to make concerted efforts to resolve the crisis so that peace could be restored in the vicinity.
Mr Sule Sanni, one of the protesters, said that the commercial bus drivers in Lagos were protesting against the activities of the officials of the Lagos State Park and Gardens, headed by Musiliu Akinsanya, popularly known as MC Oluomo.
Sanni said that they would continue with the protest until the government addressed the issue of 'agberos' extortion and alleged maltreatment of its members.
He explained that they paid between N10,000 to N15,000 every day to the union, adding that the development was indirectly affecting them negatively.
"Our profit margin is being eroded on a daily basis as they collected money from us at all the bus-stops," he said.