Anambra: Police smash armed robbery gang, recovers lethal weapons, stolen tricycles
1 min read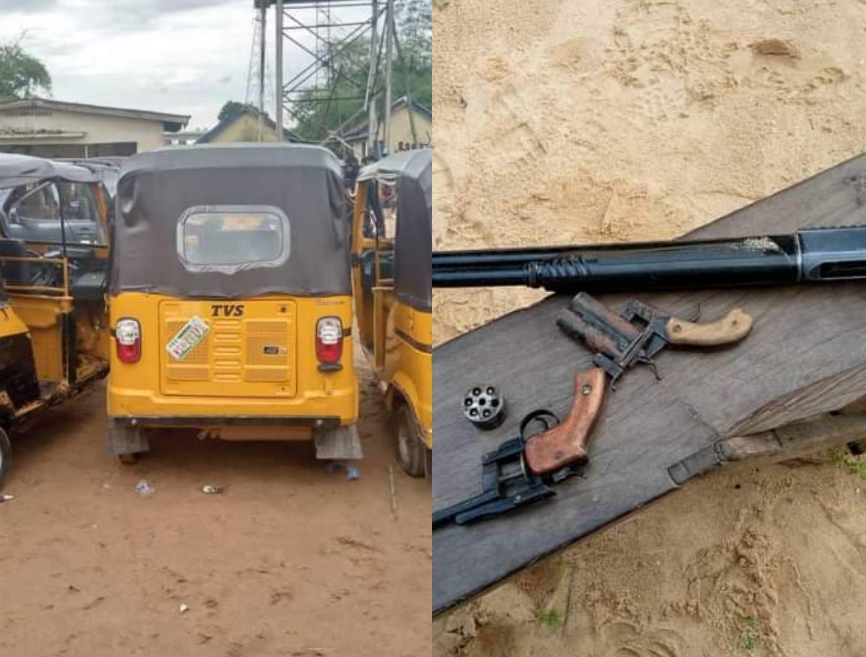 …owners of stolen but recovered tricycles Invited to come forward for collection
The Police in Ogbaru Division of Anambra State Police Command have smashed a notorious armed robbery gang that has been tormenting members of the public in Okpoko, Obosi, Atani, Oba and environs for several months now.
The spokesman of the command, DSP Tochukwu Ikenga In a statement said the feat was made possible through the collaboration between the police and community vigilante in the area.
One Jekwu, a notorious gangster and leader of the gang was arrested on 11th July, 2023. After interrogation, clues he provided were followed up and surveillance mounted on other members of the gang which culminated in the arrest of another member as he attempted to evacuate the gang's arms from Jekwu's hideout.
One Pump Action Semi-Automatic Gun and two locally made Pistols were recovered while the second gang member was also taken into custody. Further interrogation led to recovery of five Stolen Tricycles from the gang. Registration Numbers of the recovered Tricycles are as follows :
(1)NSH 156 VU
(2) NNE 622 UW
(3) NSH 203 VU
(4) UKP 349 UV and
(5) UML 359 WV
The Commissioner of Police, Anambra State Command, CP Aderemi Adeoye while commending various Vigilante Groups who partner with the Police to provide quality security for people of Anambra State, has called on owners of the recovered Tricycles to come forward with proof of ownership and collect their property.