Airstrikes kill scores of top insurgent fighters in Borno
2 min read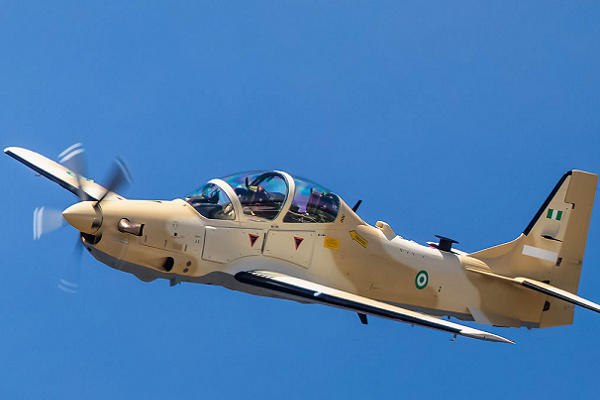 Air task components of Operation Hadin Kai have killed dozens of suspected Boko Haram/ ISWAP fighters in their enclaves in Bama Local Government Area of Borno State, sources said.
Our correspondent learnt that the Airforce conducted the operations between Christmas Eve and Tuesday, which neutralised an unspecified number of insurgents in Sheutari and Mantari in Lawanti/Mallam Mastari/ Abbaram Ward of Bama council.
It was gathered that these two communities, Sheutari and Mantari, are currently under deadly group as part of Sambisa forests.
Those who were hit by the airstrikes were top fighters and many of the escapees left with air bombardment wounds.
While collaborating the account, a counter insurgency expert, Zagazola Makama claimed that severely injured members were being treated in a location about 500m west of Mantari.
He added that a domestic intelligence source stated that the renewed vigour in the military offensives under Operation Hadin Kai also caught the terrorists by surprise at Shehutari, as several terrorists met their waterloo.
Several others were wounded while the surviving terrorists were seen scampering for safety into the thick trees in different directions.
The damaging air strikes have resulted in the degradation of the capabilities of the Jamā'at Ahl as-Sunnah lid-Da'wah wa'l-Jihād within the Sambisa forest.
On Dec. 25, Boko Haram's Amir Jaysh, Ali Ngulde sent some militant delegation headed by Amir Muke from Mandara Mountains and Abu Hassana to sympathise with the fighters.
The AI was a major hit that obliterated hundreds of terrorists including top JAS Khaids Abbah Tukur, Maimusari and Bakura Jega who were on a reinforcement mission and mobilising for attacks in the location.
Eight more fighters who sustained various degrees of injuries later died due to lack of proper medical assistance.
Further damage assessment indicated mass burials were carried out by JAS within Sambisa in the presence of top Khaids Abou Issa of Kala Balge and Ali Gana of Ngauri.
On December 27, Boko Haram terrorists conveyed some militant medical personnel on six motorcycles to Mantari camp of the terrorists, where they will be treating the wounded fighters.