Actor Osuofia loses 24-year-old daughter
2 min read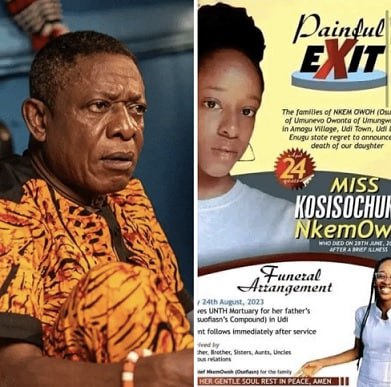 Nollywood actor, Chief Nkem Owoh, popularly known as Osuofia is set to bury his 24 year old daughter who reportedly died of cancer on June 28th.
A family source alleged that the actor abandoned his family and was not worried about the daughter's illness.
The source further alleged that the daughter, Miss Kosiso Nkem Owoh, before her death, pleaded with the father repeatedly to take her abroad for treatment, but he did nothing until she eventually lost the fight to cancer.
It was further alleged that the actor refused to take responsibility for her corpse after she passed on until the mortuary where the daughter's corpse was kept issued an ultimatum.
Meanwhile, according to a video that went viral on social media last month, an angry family member while calling out the actor said, "Osuofia Nkem Owoh's second daughter is dead, and he refused to take responsibility. The mortuary where Osuofia's daughter is gave only tomorrow to come and take the girl out from the mortuary. Please share the video so it gets to Nkem Owoh Osuofia.
"Osuofia I am not trying to tarnish your image. They are calling you a legend but you have abandoned your family. Your second daughter lost her life since the 28th of June on Sallah day and since then you've refused to answer your call or give attention.
"Tomorrow is the deadline for the mortuary to carry her. You neglected your family and your daughter died. We called you and you said you're on set. Since then, nobody asked, nobody brought money. I don't know what you did to your soul that made you abandon your family."
Source: NewsBand