2 brothers extradited to US for sexual extortion
2 min read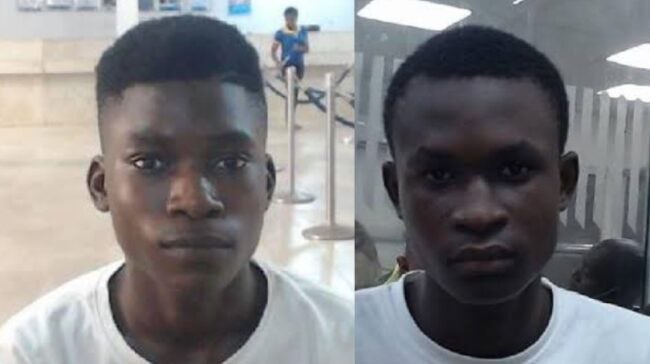 Two brothers identified as Samuel and Samson Ogoshi, have been extradited from Nigeria to the United States to stand trial for their alleged involvement in a sexual extortion operation, which unfortunately resulted in the death of a teenage US citizen, Jordan DeMay.
The move to extradite the two brothers came as a result of a judgement delivered by Justice Binta Nyako of the Federal High Court.
The final step in this extradition process was marked by the signing of the surrender order by the Solicitor-General of the Federation.
This order grants authorisation for the United States to take custody of Samuel and Samson Ogoshi, aged 22 and 20, respectively, and bring them to face justice in West Michigan, US.
The US Attorney for the Western District of Michigan, Mark Totten released a statement on Sunday, disclosing that the arrest of the Ogoshi siblings was the culmination of a collaborative investigation conducted by both the Federal Bureau of Investigation (FBI) and the Economic and Financial Crimes Commission (EFCC).
The suspects are now in federal custody in Michigan, according to the statement
"I am extremely pleased with how swiftly extradition efforts moved forward, and I am grateful to the FBI and our Nigerian law enforcement partners for their unyielding work to secure justice in this international sexual exploitation investigation," Totten said in a release published on the website of the US attorney's office.
He said both men were indicted in May 2023 of four counts bordering on sexual exploitation, child pornography, and cyberstalking.
Samuel was also charged with causing the death of 17-year-old Jordan DeMay of Marquette, Michigan, who was found dead from a self-inflicted gunshot wound in March 2022.
According to prosecutors, Samuel used a hacked social media account to make contact with DeMay while pretending to be a young woman.
After persuading DeMay to provide a sexually explicit photo of himself, he allegedly threatened to publicly release the image unless DeMay paid him.
"DeMay paid Ogoshi $300, but Ogoshi demanded more," authorities said, and that after DeMay wrote that he was going to kill himself, Samuel allegedly responded, "Do that fast, or I'll make you do it," Totten said.
Justice Nyako ordered both suspects to be turned over to the United States to face the charges in the indictment.
"Sextortion is a horrible crime," said Totten, who added, "To those who commit these crimes, we will pursue you around the world. And to those who are victims, please know we stand ready to help you."